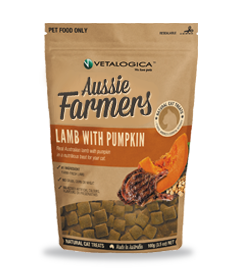 Aussie Farmers - Lamb with Pumpkin Treats for cats
Aussie Farmers Unique, Gourmet Preparation
NET WT. 3.5 OZ. (100g)

Aussie Farmers Grain-Free cat treats, are expertly formulated by our Pharmacists who work closely with dedicated cooks with culinary knowledge, creating a delicious, superior quality treat. Fine ingredients such as kale and tomatoes are individually added to the mixer, providing the perfect balance between nutrition and vibrant, new tastes. Our world-class cooks ensure the quality and consistency is just right before going through the delicate, cooking process. These authentic ingredients are then slowly cooked, locking in the nutrients, so cats can enjoy a delicious and nutritious biologically appropriate treat.
#1 Ingredient Farm-Fresh Lamb
NO Corn, Wheat or Grain - NO Artificial Colors or Flavors - NO GMOs
Australia's quality ingredients sourced from local producers
Australia boasts some of the finest and fertile lands in the world and produces exceptional quality meats, vegetables and fruits, which are all included in Aussie Farmers cat treats. By duplicating the diet that cats would hunt for in the wild and providing those ingredients in optimum proportions, makes Aussie Farmers one of the most highly nutritional and natural treat choices.
Aussie Farmers Lamb with Pumpkin treats for cats contains farm-fresh regional Australian ingredients that mirror the natural diet, supplying nutrients in their finest form. From scrumptious lamb, wholesome pumpkin, to sun-ripened fruits and vegetables used in our formulations, you can be assured that only the best quality ingredients are used in all Aussie Farmers treats. 
Other key nourishing ingredients complete the symphony of flavors and nourishment for cats. These include grain-free and gluten free chickpeas which help maintain an energetic lifestyle, special herbal inclusions such as rosemary and powerful antioxidants such as blueberries which help strengthen your cat's immune system.
DIRECTIONS
Aussie Farmers treats are suitable for cats of all ages. Serve as a treat anytime of the day. Product intended for intermittent or supplemental feeding only. Always have fresh clean drinking water available.
INGREDIENTS
Real Australian Meat (Lamb Meal and Kangaroo Meal), Potato Starch, Tapioca Starch, Chickpea Flour, Poultry Tallow, Pumpkin, Beet Pulp, Tomato, Peas, Kale, Blueberries, Chondroitin, Glucosamine, MSM, Salt, Potassium Chloride, Potassium Sorbate, Phosphoric Acid, Omega 3 & 6, Choline Chloride, Vitamins (Retinol (Vit A), Thiamine (Vit B1), Riboflavin (Vit B2), Niacin (Vit B3), Calcium Pantothenate (Vit B5), Pyridoxine (Vit B6), Folic Acid (Vit B9), Cobalamin (Vit B12), Vitamin C, Vitamin D, Vitamin E, Vitamin K), Minerals (Calcium, Copper, Iron, Manganese, Magnesium, Selenium, Zinc), Taurine, Tryptophan, Soy Lecithin, Dicalcium Phosphate, Methionine, Rosemary, Natural Antioxidants.
TYPICAL ANALYSIS: Crude Protein: 35%, Crude Fat: 14%, Crude Fibre: 5%, Salt (NaCl): 1.3% 
---
We Also Recommend